While traditionally an in-person event, this year we have decided to bring TransportationCamp NYC 2020 online on Saturday, October 17th! This will be a free event this year and come be a part of the conversation on all topics!
TransportationCamp is an unconference - every session is planned, proposed, and led by attendees like you. It's the perfect opportunity to share your transportation passion with a diverse gathering of fellow enthusiasts. TransportationCamp welcomes all attendees, whether you're a planner, software developer, engineer, student, transportation professional, community member, policy maker, or just excited about mobility!
Register for the event HERE. Once registered, you will be able to access the event via both the Whova web portal (it only works on laptop and desktop browsers) and its mobile app.
Please sign in using your registration email.
Check out our guidebook for event instructions.
Check out the instructions for Gather Town.
Use our all-in-one web portal for this virtual event (RSVP needed to access the portal)!
You will need to sign up a Whova account using your registration email. If you prefer to use the mobile app, download it here.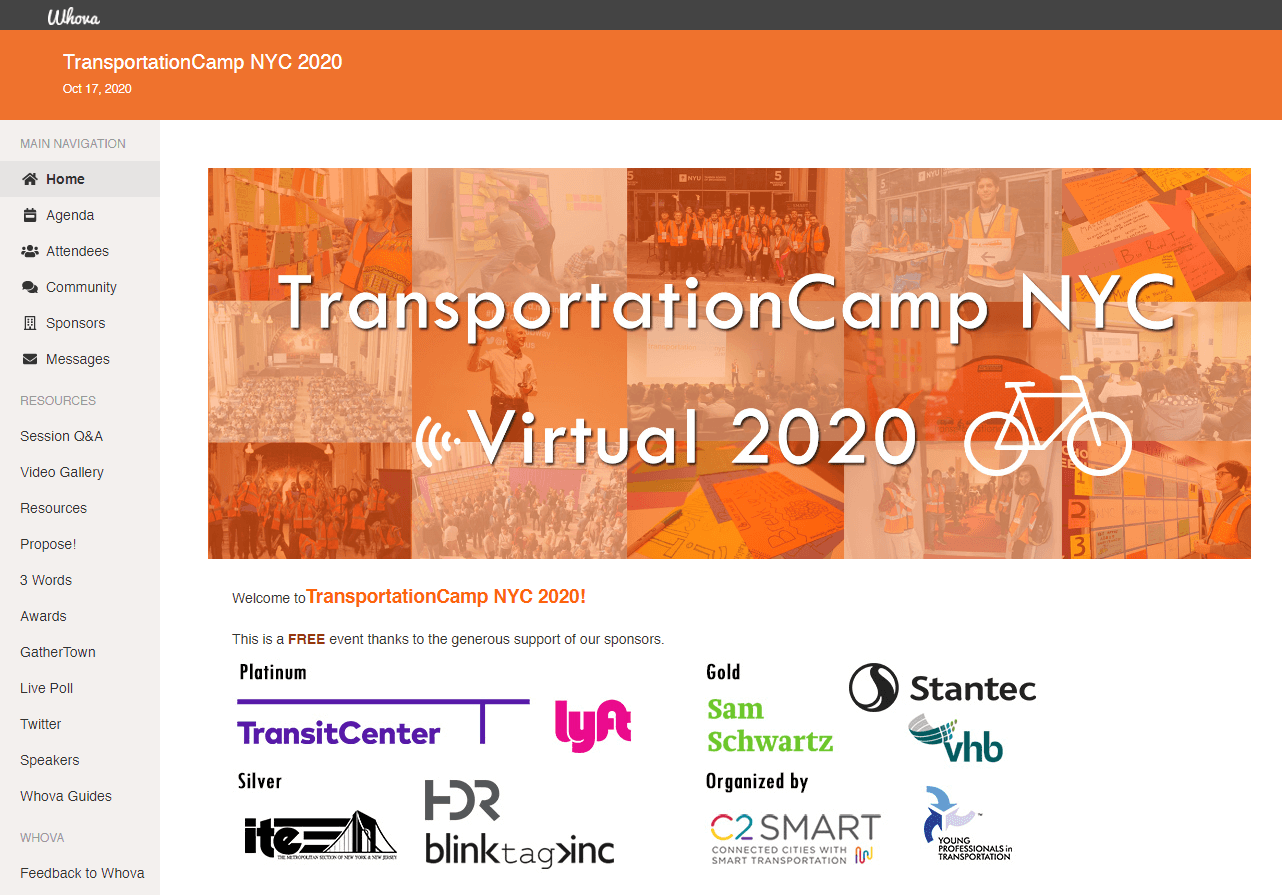 2020 Schedule
Eastern Daylight Time (EDT) in US
10:00AM EDT (Optional) Pre-Camp Networking: Gather Town
10:30AM EDT Welcome and Kick Off
11:00AM EDT Session 1
12:00PM EDT Session 2
1:00PM EDT Lunch & Keynote Talk + Gather Town Networking
(Meera Joshi, General Manager and Principal of Sam Schwartz, Former Commissioner of NYC Taxi and Limousine Commission)
2:00PM EDT Session 3
3:00PM EDT Session 4
4:00PM EDT Virtual Happy Hour: Gather Town
Social Media
Make sure you're up to date by following us on Twitter @TranspoCampNYC, and by subscribing to our MailChimp email updates. And, keep the conversation going! Tag your tweets, instagram photos, and more with the official event hashtag: #TCNYC20
First Time at a TransportationCamp?
How To TransportationCamp: The folks at MobilityLab have taken the time to put together a TransportationCamp 101 guide that explains all aspects of the event.
Participation Encouraged: Sessions are formed as the day goes on, so be sure to come with topics for discussion. If you have an idea, feel free to share and add your thoughts.
Rule of Two Clicks: Never hesitate to leave a session if you suddenly find it's not for you, or if there's another session that you want to check out, too!

New!

Networking sessions: Gather Town will serve as the platform for pre-event, lunch and happy hour networking.

New!

Scholarship Essay Opportunity! Check here for more details.