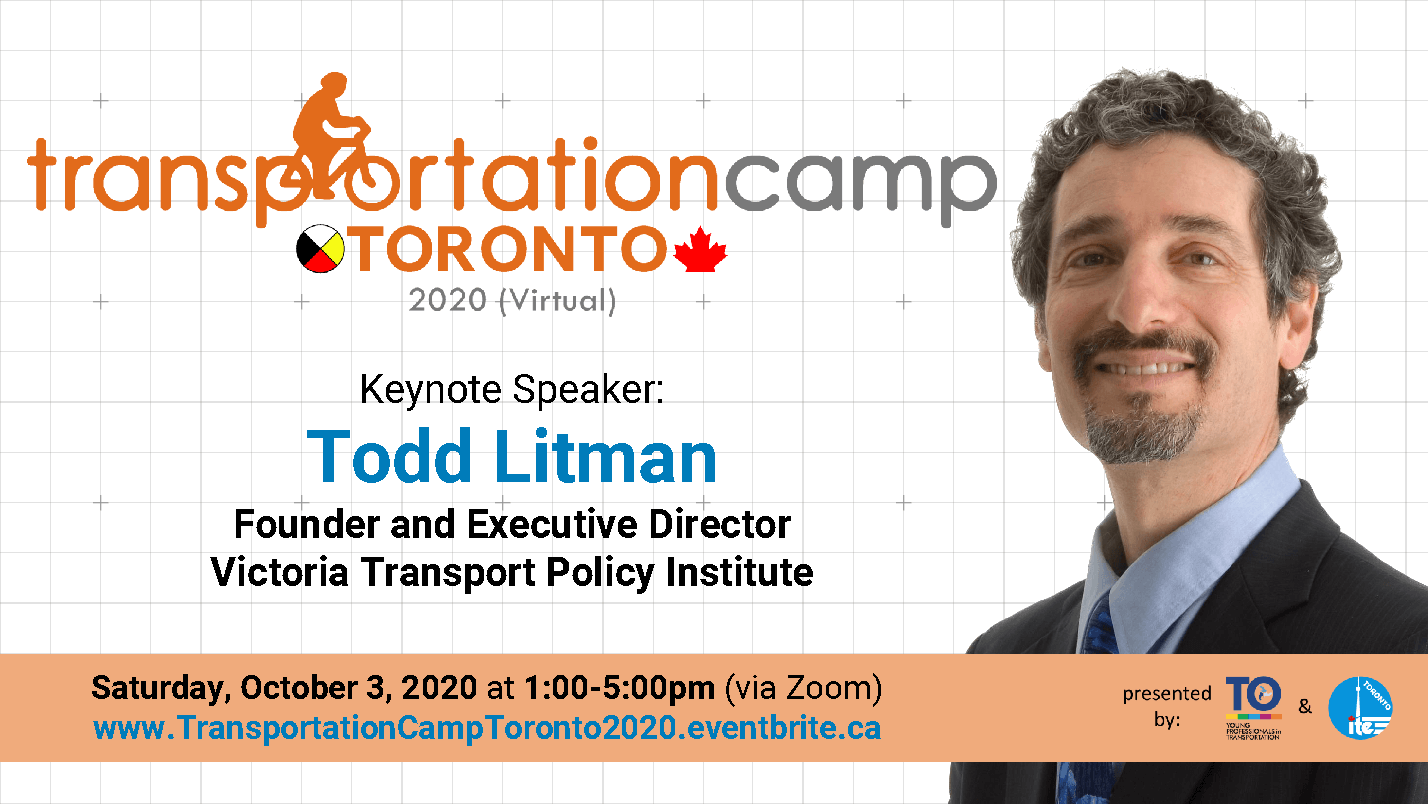 YPT Toronto and ITE Toronto are excited to be co-sponsoring and organizing TransportationCamp 2020 in Toronto! This event usually takes place virtually, but due to COVID-19 restrictions we will be bringing this to you virtually on Zoom. So this means that you can participate from the comfort of your own home! (No free doughnuts, but also no sweaty handshakes!)
What is a "TransportationCamp"?
The aim of TransportationCamp is to bring together thinkers and doers in the transportation community to openly discuss some of the most pressing transportation topics facing our region.
TransportationCamp is an "unconference" - basically, a conference, but instead of a long day of pre-set programming, it is run by participants like you!
Still confused? There's a guide too! (note that we're adapting this for a virtual format): http://transportationcamp.org/2011/02/how-transportationcamp-works-the-essential-guide/
Why should I attend TransportationCamp?
TransportationCamp is the event for you if you like talking about: transportation, technology, and the future of mobility in the Greater Toronto and Hamilton Area.
It doesn't matter if you are a planner, engineer, work in tech, policy, or just are passing by with a general interest in transportation; we welcome any and all who will contribute thoughts and ideas.
This year's TransporationCamp theme is "Our Urban Mobility Future".
How does TransportationCamp work?
Typically, TransportationCamp is a full-day event run in-person. Due to COVID-19, we are moving the event online to Zoom (so you can participate for as little or as much of the event as you want; from the comfort of your own home!).
We will have a keynote speaker and a series of break-out sessions.
The break-out sessions might be a Presentation, Open Discussion, or Brainstorming session. We will run 3 session timeslots with 4 different breakout topics running concurrently so you can pick and choose which ones you want to participate in (so 12 sessions total, if you're doing the math).
We will also have a virtual "hangout" room and Slack space going, if you simply want to meet/greet and chat with people!
Sounds great! How do I participate?
Register for FREE on Eventbrite (https://transportationcamptoronto2020.eventbrite.ca)! And spread the word to your friends and colleagues. Registration will be open until October 2 and you will receive all further details and access links to your email.
We need both break-out session leaders and participants!
Interested in leading a break-out session? You can lead a Presentation, Discussion Topic, Brainstorming Session OR a combination of any of the three.
Come prepared to submit your topic to our virtual whiteboard on the day-of. The organizers will then slot in topics as they come.
Keep it casual! You don't even need a slide deck! (But you can bring one, if you really want to).
Examples of topics from other TransportationCamps to get you thinking:
What's all the Hype about Hyperloop?
Curb your enthusiasm: why we need a digital ecosystem for curbs
Designing vehicles for safety of all street users
Pedestrian safety and public health
Tactical Transit Safety Solutions to Keeping Minorities Safe On Public Transit
Schedule:
1:00PM-1:25PM Welcome and Introduction
1:30PM-2:15PM Session 1
2:20PM-3:05PM Keynote Presentation: Todd Litman ("Our World Accelerated: 120 Years of Transportation Progress")
3:10PM-3:55PM Session 2
4:00PM-4:45PM Session 3
4:45PM-5:00PM Closing